A Day at One of the World's Top 5 Beaches
There were several reasons that we chose Luquillo as our base of operations when visiting Puerto Rico.  One of the chief among those is the proximity to the ferry terminal that will take you to the island of Culebra, which is home to one of the best beaches in the world.
Flamenco Beach was named the #3 beach in the world by Tripadvisor in 2014.  It was also rated as one of the top 5 beaches in the world by the Discovery Channel and National Geographic.  It took us several tries, but we were finally able to catch the ferry and make our way over to this beautiful beach.
After a lengthy but pretty ride on the ferry to Culebra we arrived at the Culebra ferry terminal.  The locals know why most people came to Culebra, and there are no shortage of taxis, vans, and buses offering $3 one-way rides to Flamenco Beach.  We hopped into a crowded van so we wouldn't have to wait for one to fill up and were on our way.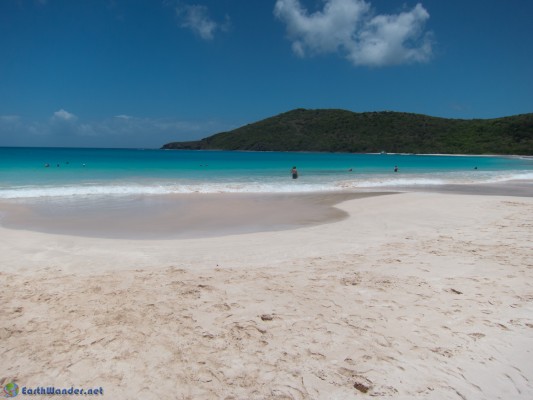 After being dropped off in the parking lot, we got the girls some drinks (non-alchoholic for Stacie) and headed down to the beach.  Upon breaking through the foliage to the beach we were treated to beautiful turquoise water, white sand, and a backdrop of jungle foliage and small cliffs/mountains with breakers splashing against them.
We spent most of the day taking it easy.  Someone had rented a few extra chairs and an extra umbrella and let us use them.  We mostly hung out here and in the water, tossing around the football and enjoying the scenery.  Just up the beach near the parking lot were a variety of stands serving local(ish) food and all kinds of cocktails, both of which we were sure to partake in.
There are lots of beautiful beaches in the world.  Both during and after our time at Flamenco Beach we discussed what it was about the beach that we thought made it one of the world's 5 best according to multiple sources.
What makes a Flamenco Beach one of the world's best beaches?
With its turquoise water and white sand, Flamenco Beach is certainly a beautiful beach.  However, its beauty doesn't compare to the photos you'll see of some beaches in places like Thailand, the South Pacific, etc.  I think what makes Flamenco Beach rank so high is not just its beauty, but  several other factors as well.
Firstly, it's accessible.  Just a short ferry ride from the Puerto Rican mainland (even if tickets for the ferry can be hard to get), it's easy to do as a day trip.  However, I think there are two other factors that really set it apart.  The area just near the beach is great for swimming, but there are also several reefs just off the beach for snorkeling.  You can swim to them easily if you have a mask and snorkel.  No need for a boat or a guide.  Additionally, the beach not only has all the amenities you could want (bathrooms, food, cocktails), but it hides them behind a thin lair of jungle foliage.  When you're out on the beach it looks like you're in the middle of nowhere.  You have the water in front of you, the sand beneath your feet, and the jungle behind you.  However a 30 second walk into that "jungle" will get you a clean bathroom, a good lunch, and a tasty cocktail.
A little after 3pm we decided to head back to the ferry terminal to catch our 5pm ferry.  It was a full boat back but we had no problems getting on after arriving to a long line at around 4pm.  Back in Luquillo we finished the night off by picking up some dinner from the famous Luquillo Kiosks.  We went to kiosk #20, Terruno, and got some mufungo to take back to our balcony.  It was the first time I'd ever had mufungo and it was very good, though there was way more of it than we could possibly eat.