Coasteering in Ireland
Day 6 of our trip was another bright and sunny day.  I'd done some googling and came across realadventures.ie, an adventure company based out of Clifden.  One of the things they offer is coasteering, which is essentially a combined hike/swim/climb on a rocky coast.  You hike along the rocks on the coast, and when you get to an area you can't climb across you either wade into the water or, depending on how high up you are, jump in.
We were a little unsure about it as the website mentioned that you should bring along a pair of shorts and shoes that you don't care about ruining, neither of which we had on us.  You need to wear closed toed shoes that you don't mind swimming in, and the shorts go over your wetsuit as you often slide around on rocks and they don't want you tearing their wetsuits.  Luckily we were able to find some water shoes in Clifden that morning, as well as some cheap 5 euro shorts at Gannon Sports right next to our hotel.  The water shoes ended up being perfect, though as it turns out if you don't have this stuff they will do their best to loan you some that others have left behind.
We called up Real Adventures Clifden with the number listed on their site and set up our trip.  It's all handled a bit oddly, as they told us they would meet us with a van at a nearby grocery store in Clifden and we could then either hitch a ride in the van or follow them to the coasteering start point.  We chose to follow them and we're glad we did, as the van filled up.  After a detour to Letterfrack for the van to pick some people up there, we were nearly an hour late on our start time, but the fun that was soon to be had would make up for it.
I see now why they have you follow the van to the spot instead of just giving you directions, as the start point is way out in the boonies through many twists and turns on small rural roads.
After arriving at the start point, we took quick notice that the rest of our ~12 person group was a large group of kids from Spain.  At 30, we were by far the oldest in the group.  It turns out they were good kids (who were trying to get better at english and hence very interested in chatting) and fun to go on the trip with.
Once everyone was suited up, we started our walk along the beach.  The parents of the kids (and the kids who ended up being too scared to go) could walk on a path a little ways up the hill and watch/photograph the whole trip, which is good as none of the parents were actually doing the coasteering and were worried about sending their kids out onto the rocks/cliffs without being able to see them.
The start of the walk is a few hundred meters along the beach to get to the real action.  From there, large river-like rocks take over for another hundred meters or so, and after a quick safety spiel (with the guide clearly apprehensive about how much english the kids were understanding), it was into the water to swim to the rocks.  Upon first getting in, the water was frigid, but it quickly became refreshing in the wetsuit.  After a short swim with my Nikon ????? water camera in hand, it was up onto the rocky cliffs we went.  This was definitely as much a climb along the coast as a walk, as the rocks got quite large and required all four extremities to navigate.  Through some voodoo, however, the rocks weren't slippery at all, which kept things from being difficult.  Back in Tennessee, wet rocks even a third the size of these would be a death trap with how slippery they are.  The only hinderance to our journey was Stacie's sore hip (hip pointer?), which she powered through like a champ.
It wasn't long before we came to the first impassable gorge that would require jumping and swimming across.  The guide presented us with three options.  You could climb down low and do a small (~2 foot) jump into the water, you could stay at our current height and do a medium (~18 foot) jump into the water, or you could climb up higher and do the large (~40 foot) jump into the water.  A couple of the younger girls opted for the low option, most (including Stacie) chose medium, and myself and two of the older boys opted for the tall option.  The guide assured us it was sufficiently deep below though we would need to be sure to jump out (and not just step out) to avoid the shallow rocks just below the cliff's edge.  My only apprehension came with the skinny 90lb boy before me jumped in and the guide told me "you're definitely going to have to give it a good push and jump out further than that since you're not as small as him".  So I summoned all of my inner non-whiteness and leaped out there as Stacie captured the moment from below.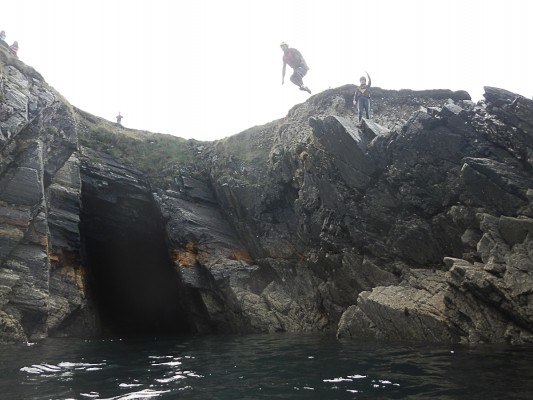 Once we were down into the water we were able to swim into a cave.  Not the coolest cave we'd see on the trip, but fun to swim into nonetheless, and quite creepy once inside in the dark.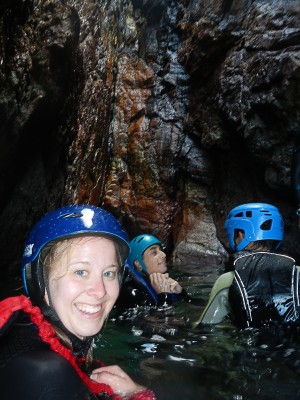 From there we continued our adventure.  Climbing, jumping, swimming, and on.  There were 3 large jumps in total (though all had an alternative path if you wanted to jump from lower or not at all) and about the same number of caves.  The second cave was very cool as there was a large whole up to the service into the top, creating a nice big beam of natural light and lighting up the red/gray walls.
The entire journey lasted about 3 hours and at the end we walked back over the hills through the grass, which provided some great views and atmosphere all on its own.  I believe it cost 45 euro per person and was well worth the expense.