Fun With the Culebra Ferry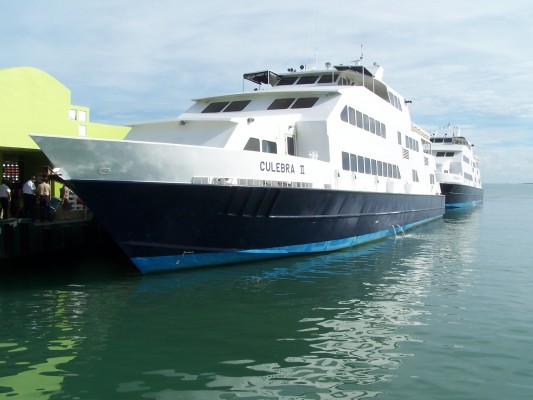 After a restless 3 hours of sleep in my first night in Puerto Rico (I was coming down with a cold), we woke up early on Friday morning to catch the Fajardo ferry to Culebra and the famous Flamenco Beach.
Flamenco Beach is located on the island of Culebra, just off the coast of Puerto Rico, and was named a top 5 beach in the world by Tripadvisor, NatGeo, and the Discovery Channel.  This is not a well kept secret and as such, getting tickets for the ferry to the island is highly competitive.  Previously, people started lining up as early as 3am in order to get tickets for that day's 9am ferry, which can typically hold around 200 passengers.  We were lucky that our trip came a few weeks after they put a new, much larger 600 passenger ferry into service.
You cannot buy tickets on-line and ordering over the phone is very difficult (they only sell 50 over the phone and they rarely actually answer their phone to take the orders).  With the new larger ferry and it being a weekday we decided to risk it and show up just before 8am, right about when tickets should start going on sale.
We arrived and parked in the paid lot.  We'd heard that there can be a bum rush to leave the lot when the ferry returns at the end of the day (there is only one pay station for ~600 passengers), so we tried to pay ahead of time but were told we could not.  After getting to the ferry dock and into the back of the very long line for the Culebra tickets, we were relieved when a local told us that we were well within the threshold of people that would be able to get a ticket.
That optimism began to fade when the clock hit 8:30, and then 9:00, and then 9:30 without the line moving at all.  Then came rumblings and rumors from other folks in the line that they were having mechanical problems with the 600 passenger ferry.  Of course at the Fajardo Ferry terminal, any official info is extremely hard to come by but as 10:00 approached those rumors sounded more and more plausible.  Sitting out in the hot sun we regretted not getting a customer loyalty card at the nearby smoothie place that we were racking up a nice bill at.  Eventually, at about 11:30, we gave up and left.  Back in the parking lot I asked if the parking fee could be waived since the ferry wasn't even running for the day.  No dice.  Later in the day at Luquillo Beach we ran into someone that taken the ferry to Vieques and they told us that they were very late getting back because the Culebra ferry was never fixed and they had to pick up people from Culebra on the way back.  Thus far, the Fajardo ferry was definitely living up to its horrid reputation.
We decided to give it another try on Saturday morning.  We had no idea if the ferry was even fixed and no way to find out, so we didn't exactly rush to get out there.  We arrived at about 8:30 and by then the massive line was no longer for tickets, but for people that already had tickets and were lined up to board.  The ticket line was fairly short, but through some discussion with some locals we learned why.  Apparently when the ticket line opens they sell 500 tickets, then board the ferry and see how many seats are left (remember there are also pre-sell tickets and locals that already had tickets to account for).  At that point they sell enough tickets to fill the remaining seats.
Things were once again running behind schedule and they didn't start boarding until 9:30.  More line rumors brought some good news.  Stacie went up and spoke with one of the sales clerks in Spanish and was told that since the 600 passenger ferry wasn't working the day before they brought in one of the 200 passenger ferries in case they couldn't get it running on Saturday.  Since they did get it fixed they now had both ferries available and planned on using them both.  We had no idea if there was any truth to this but it gave us hope.
That hope then began to diminish when the initial line filled up the 600 person ferry on its own and some of those people even had to be redirected back to the 200 person ferry.  Still, they did eventually re-open the ticket line and our roller coaster of emotion once again flipped to the positive side.  Then, when we were about 10 people from the front of the line, we were told that all tickets were sold out.  So close.
Luckily for us, when we had arrived that morning the parking lot was full, which meant we had to pay a few bucks extra for valet parking.  The lucky part of this is that in order to get to the valet lot we had to walk right by the boarding area.  When doing so, one of the employees started speaking to us in Spanish.  Stacie, putting her near-fluency in Spanish to use, informed me that he was asking if we were coming to board and told him no, we tickets were all sold out.  He looked puzzled, and told Stacie there was plenty of room still left on the ferry.  After some discussion with other employees they radio'd in to someone, who came and led Stacie back to the ticket area and told them to sell tickets to her, as well as anyone else that hadn't left yet.
Unfortunately, some friends we had made while waiting in line were not parked in the valet lot and had walked the other direction, and were already gone.  But with that, after two days and many hours hanging out in the Fajardo Ferry terminal, we finally had our tickets!  And the wait was worth it!