Kicking Back at Balneario Monserrate (Luquillo Beach)
With our newly minted Southwest Companion Pass in tow, and Stacie's requirement that I get her to a nice warm beach after enduring the cold Utah winter, I set to planning a long weekend in sunny Puerto Rico.
We were meeting my brother Brett and his wife Adrian, who had also gotten in on the Companion Pass deal.  We decided on the small town of Luquillo, located on the east coast of Puerto Rico, over the hustle and bustle of San Juan.  It was perfectly located along beautiful beaches but also within a short driving distance of El Yunque Rain Forest as well as some more authentic local food.
After not sleeping well the first night (though being forced awake at sunrise allowed me to grab some RyanMoyerPhoto worthy shots of sunrise over Playa Azul Beach from our vrbo balcony) and wasting away our first morning battling the infamous Culebra Ferry, we decided to spend the majority of our first day kicking back at the popular Balneario Monserrate.
People often call the beach "Luquillo Beach" for short, but it's important to note that there is another beach nearby that is actually called Luquillo Beach.  The one actually called that is also a beautiful beach, but it has no facilities and no lifeguards, and swimming there is not always recommended with the currents.  If someone refers you to Luquillo Beach, Balneario Monserrate is likely what they mean.  It's located just next to the town's famous food kiosks, costs about $4 to enter, and has nice restrooms, showers, chair rentals, etc.
The afternoon was relaxing, and fairly uneventful until it quickly became VERY eventful.  A lady walked up to the lifeguard tower near us and asked the lifeguards something.  They both then took off running down the beach, with one of them hustling out into the water.  There was little commotion around other than the lifeguards themselves.  He swam pretty far out, to about the boundary of the swimming area, just beyond which there were a group of kayaks huddled together.  He was out there for quite a while, and eventually the kayakers came in and were looking around.
Eventually, we unfortunately saw what he was looking for, as he swam back to shore and dragged a body up on to the beach.  By this time more than 20 minutes had passes since the lady had fairly casually made her way to the lifeguard stand.  A large crowd huddled around, and it was probably another 30-40 minutes before an ambulance arrived.  At 20 minutes under water we were pretty sure what the outcome was but we saw the next morning in the news paper that the swimmer had in fact died.  Apparently it was a 19 year old boy who was there for a picnic with his family.  There weren't any details how it happened, as the swimming area is very calm with no waves or currents to speak of.  We had seen someone swimming laps just outside of the swim area boundary for a while earlier on.  I'm not sure if it was the same guy.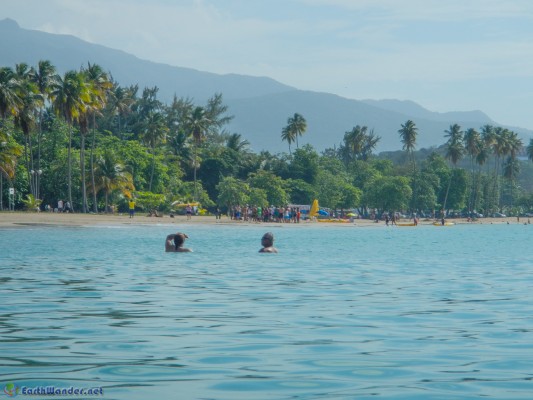 After that harrowing experience we decided to call it a day.  After a shower we finished things off with an excellent dinner at Pasta y Pueblo (my tripadvisor review).  After a long day with a cold and little sleep the night before I could barely stay awake, but it was worth staying up for.