Skiing in Sun Valley
Our Snowbasin season ski passes come with three free days of skiing at Sun Valley (as well as a bunch of other places now that they're in the Powder Alliance) and a reasonable flat rate of $159 at the Sun Valley Lodge/Inn.  So, we packed our bags and headed that way for my birthday weekend.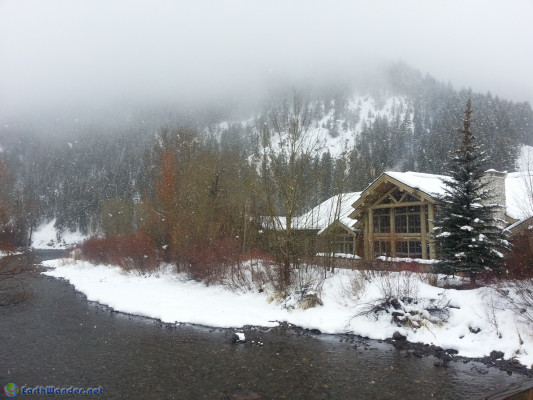 The layout of Sun Valley is a little odd.  The Sun Valley ski area is actually a separate entity from Sun Valley resort.  The ski area is broken up into two mountains.  The first of these is Dollar Mountain, a much smaller beginner mountain, which is just outside of Sun Valley resort.  From the resort, which contains the Sun Valley Lodge, Sun Valley Inn, a skating rink, and a small village with a few restaurants and shops, if you travel southwest through the town of Ketchum you arrive at Mount Baldy, the main ski area.  The town of Ketchum itself is where a cute little walking town with lots of restaurants and bars, and is actually located closer to Baldy than the resort.
We arrived late Friday night after receiving a speeding ticket in the nearby town of Hailey, which has a ridiculous 25mph speed limit on a big four lane road.  The Lodge, which contains a bowling alley and is generally more active and happening, was booked so we were placed in the Inn.  It was a nice enough spot, definitely quieter than the Lodge.  This place is old school high class living.  It's a bit older and out of date, but high end.  We were treated like movie stars upon arrival.
Saturday morning came, and it was time to get our ski on.  Sun Valley is typically known for its long, steep, smooth groomers which sounded perfect for Stacie.  It's not known for good amounts of snow, but that's exactly what we got as we woke up to the big fluffy stuff pouring down.  While most people dream of this, as a newbie skiier it can be tough to get used to.  Stacie really struggled on the chopped up powder in her loose fitting rental boots and short, narrow rental skis.  She took a lot of falls.  I had an easier go of it with my new properly fitting boots (a birthday gift from my beautiful wife) and my new skis which were 98mm underfoot.
Sun Valley is a beautiful ski area.  The trails are carved through a mountain of evergreen trees, which were full of snow while we were there.  This leaves beautiful snowy woodland scenery around you, without the underbrush type stuff you typically see.  Down at the base in front of the famous elegant lodges, a small river runs by just adding to the scenery.
After a hard half-day of skiing, we took a late lunch at The Roundhouse restaurant at the top of the Gondola, mid-mountain.  This is a full-blown, sit-down restaurant, not your typical cafeteria ski lodge.  We had a good lunch featuring some fondue and elk, skiied our way down the mountain, and called it a day.
The next morning was blue bird but still with a lot of fresh, albeit choppy, on the ground.  Stacie decided to sleep in, and then stay in for the day and check out the spa after her frustrating day of falls the day before.  We couldn't really see the views the day before, and they opened up on this day.  Really spectacular views out over the Sawtooth mountain range.
I moved at a bit faster pace and was able to explore most of the non-advanced terrain on the mountain.  Seattle Ridge is a favorite of locals and was the only crowded area.  After a looonnggggg cat track ski over (you have to either access it through the bowls or along a cat track) it was fun hanging out there for a few runs.  After that I made my way over to Wildcat Ridge which was steep and super powdery at the top.  Lots of bumps, but very fun in the powder, although my feet were aching at this point.  The bottom 1/4th of the run was a pure block of ice that I actually struggled to get down, and I decided that would be my only run down there.
All in all, I enjoyed my skiing at Sun Valley.  I didn't get to experience the long, flat, fast groomers that they're famous for as it was very bumpy, but it was good times in the better snow anyhow.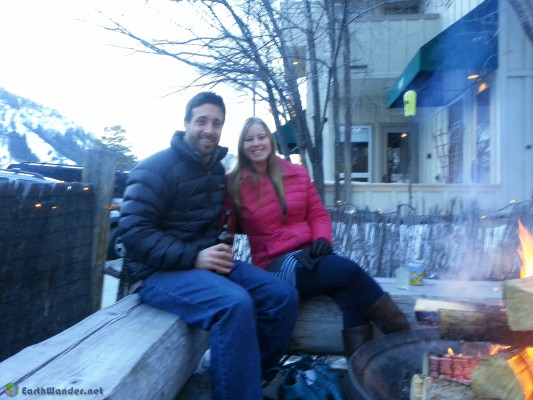 We had a good dinner at Rickshaw in Ketchum that night, and then on Monday we headed home.  Idaho is a beautiful state, though Sun Valley is at the south entrance to the Sawtooth Mountain range which is really what it gets its beautiful reputation for.  Since we were heading south, we were heading away from the really pretty part.  Still, I found it interesting as the Sawtooth range is massive and remains in your view for hours as you drive away from it. Once crossing the border to Utah there was more pretty scenery in front of us, especially as we rounded the corner back into view of the Wasatch range that we call home.
Prior to crossing over into Utah though, we made a stop at Idaho Falls to see Shoshone Falls, also known as the Niagara falls of the west.  Upon approaching Idaho Falls I wondered where the falls would be as its a pretty flat area.  Then, all of the sudden, there is a massive hole in the ground.  A huge canyon, the Snake River Gorge, drops out of nowhere at the edge of the city.  It was pretty remarkable the way that you can't even see it when you're 100 yards away, but when you get up to it it's just massive.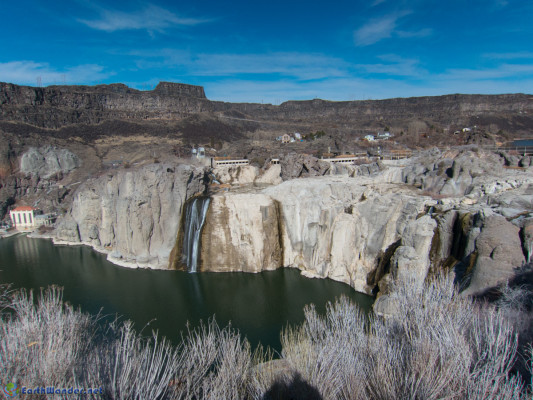 Shoshone Falls is dam controlled, and we knew the water would be off for our visit, but I wanted to see it anyway.  I definitely plan to go back after seeing the area, as the drop is huge (especially in its width) and I can't begin to imagine what it looks like with that massive amount of water going over it.
On the way out of town we stopped at the pull-offs for the Perrine Bridge, the bridge that you use to cross the canyon to get into town.  There are pull-offs on each side of it and the viewing areas extend under the bridge so you can see it from both sides.  It's a really cool bridge.