Squeezing London Into a Day
We woke up and got going in the late morning for our one full day in London.  London in a day and we didn't get going until 11am?  We had our work cut out for us.  Specifically, 10.5 miles of walking as we were planning to slay this beast without using a taxi.  Fortunately summer in London leaves you with a lot of daylight.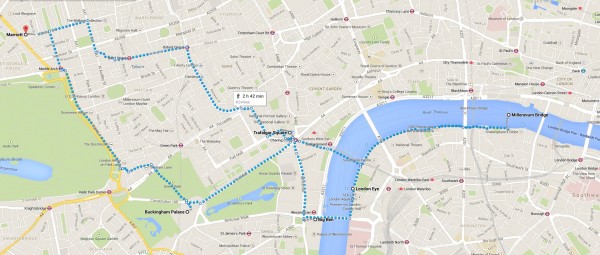 Our location was a good jumping off point for our itinerary.  We grabbed some pastries from the grocery store and headed through Hyde Park on our way to Buckingham Palace.  We really only skirted along the edge of Hyde Park with a brief stop to finish our pastries, but it seemed like a nice enough place to hang out.
From there we had to cross the street, which is not as easy as it sounds as London is not super pedestrian friendly, to Green Park.  When walking through Green Park we noticed a huge increase in pedestrian traffic.  People were pouring out from everywhere.  After arriving at Buckingham Palace we found out why.  We happened to wonder in just minutes before the changing of the guard.  Of course I told Stacie that I had it planned all along.  She saw right through it.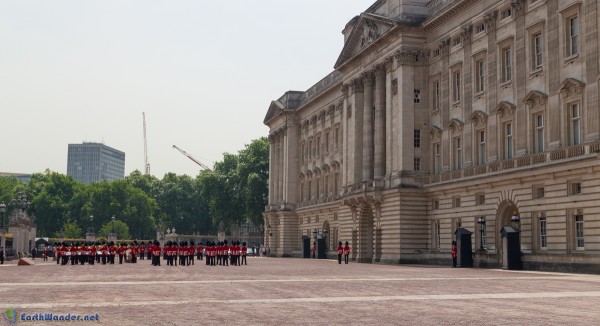 The changing of the guard was…OK, I guess.  It's pretty much exactly what it sounds like.  It's not something I'd go way out of my way for, but it was worth sticking around after serendipitously wandering upon it.
Once the crown jewels were safe inside Buckingham Palace with their new guards, we snapped a few photos and headed down The Mall which skirts alongside St James Park to Trafalgar Square.  We were getting pretty hot at this point and were content to drop our feet into the water of one of the pools in the square and people watch.  The cool water felt great, but apparently this is a no-no as we were eventually instructed to get our feet out of there.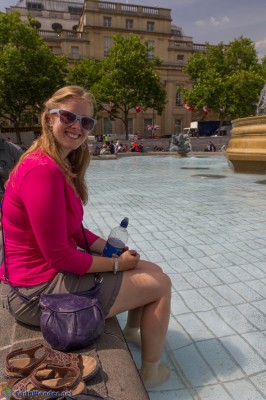 Trafalgar Square was a cool area with lots of people out and about, little cafes, and of course The National Gallery.  On our time crunch, and not being big museum folks, we decided to skip the Gallery.  We spotted Big Ben in the distance and decided to head that way.
On the way towards Big Ben we spotted a sign for Westminster Abbey and made a quick detour there.  They were charging some outrageous price to go inside, so we hung outside of both it and Big Ben, snapped some photos, and moved on across the Thames towards the London Eye.
The London Eye was, simply put, chaos.  At its base is some snake of a line that cuts across walkways and leaves you searching for the end of the line.  But before you get in line, you have to find the ticket booth, which will also have a line.  After buying the tickets, you then have to wait until your assigned time before you can line up.  You can buy the tickets online ahead of time (and you even save a couple euros) but you have to pick your time when you do, so unless you're on a strictly regimented schedule it's annoying to have that time deadline in the middle of your day for something that should be a walk-up attraction.  I figured we'd just buy the online tickets with my phone when were close to arriving, but sadly that's a no-go as you can't buy tickets for within the hour online.  They were onto those shenanigans.  To their credit though, there is a pretty decent little video room where you can spend some time waiting for your time to line up, where you get to wait again.
As mentioned before, the line was chaos.  They have an area where it goes across a walkway and they have a "crossing guard" of sorts telling you when to go to try and keep some organization to the line.  Inevitably, since there's no one watching the line on the other side, there are some people that think that is the end of the line right there and just wander in, probably with tickets for an hour later.  Oh well.
A few minutes before finally getting to the front of the line, a kid in front of us lost his lunch.  He was a trooper though and he wanted to keep going.
Once you get in your pod, your best views are going to be on the left side overlooking Parliament and Big Ben.  There's plenty of room in there though and people move around.  There are little displays that point the landmarks out to you.  Like most things we'd seen in London, it was pretty cool but paled in comparison to the natural wonders we'd just seen in Ireland.
Next up on the docket was the South Bank, a trendy area full of bars, cafes, and people hanging out.  We found a packed bar along the river and I was finally able to try my first cask ale.  Down below the bar there were sand beaches on the river shore where some older kids were horsing around.  We then headed to the Millenium Bridge for a quick crossing and some photos.  The sun was just breaking through the clouds at the time and it created a really cool scene.
By then it was dinner time, and we decided to head to a Turkish joint in the area called Tas Pide.  This turned out to be a horrible decision.  Not because the food tasted bad (it tasted very good), but rather because the food WAS bad.  That is, we got food poisoning.
After finishing our meal there we headed back to an area near Trafalgar Square to finally do some pub hopping, something I had very much been looking forward to in England.  Stacie was already starting to feel a little ill, but she pushed through, not knowing what was coming.  I immediately ordered a cask ale at the recommendation of my brother, who is nuts about them.  It is about this time that I started feeling sick as well, and much to my dismay we decided to head back to the hotel.  I'd very much been looking forward to England beer so getting so little of it before retiring for the night was disappointing, but the state of my stomach was quickly deteriorating.
We figure it was Stacie's entree at the restaurant that had the bad bacteria in it, as she ate about half of it and I finished it for her afterwards, and every level of sickness of hers throughout the night proceeded mine by about that same amount of time.  We had a long night ahead of us, followed by a miserable (but worth it) train ride to Paris the next morning.